Hammond Manufacturing

- Hammond Manufacturing Co. is a manufacturer of a wide range of standard electronic enclosures and transformers, since 1917. The Electronics Group manufactures general purpose, hand-held and instrument enclosures in plastic (either economical styrene or high impact, flame retardant ABS), aluminum, die-cast aluminum and steel. A complete line of chassis and accessories is also offered.
Custom Enclosures
When a standard enclosure isn't exactly what you need, Hammond can modify their designs for the ideal enclosure solution. Learn More
1590Z Series of Wall-Mount Water-Tight Enclosures
Publish Date: 2017-01-31
This presentation will cover the overall design and key features of the product line as well as relevant industry standards, typical applications, and available accessories.
Duration: 5 minutes
1555 F Series of Wall-Mount Water-Tight Enclosures
Publish Date: 2015-03-06
1555F's are suitable for any application requiring wall-mounting, protection from dust, oil, and water in a non-metallic package.
Duration: 5 minutes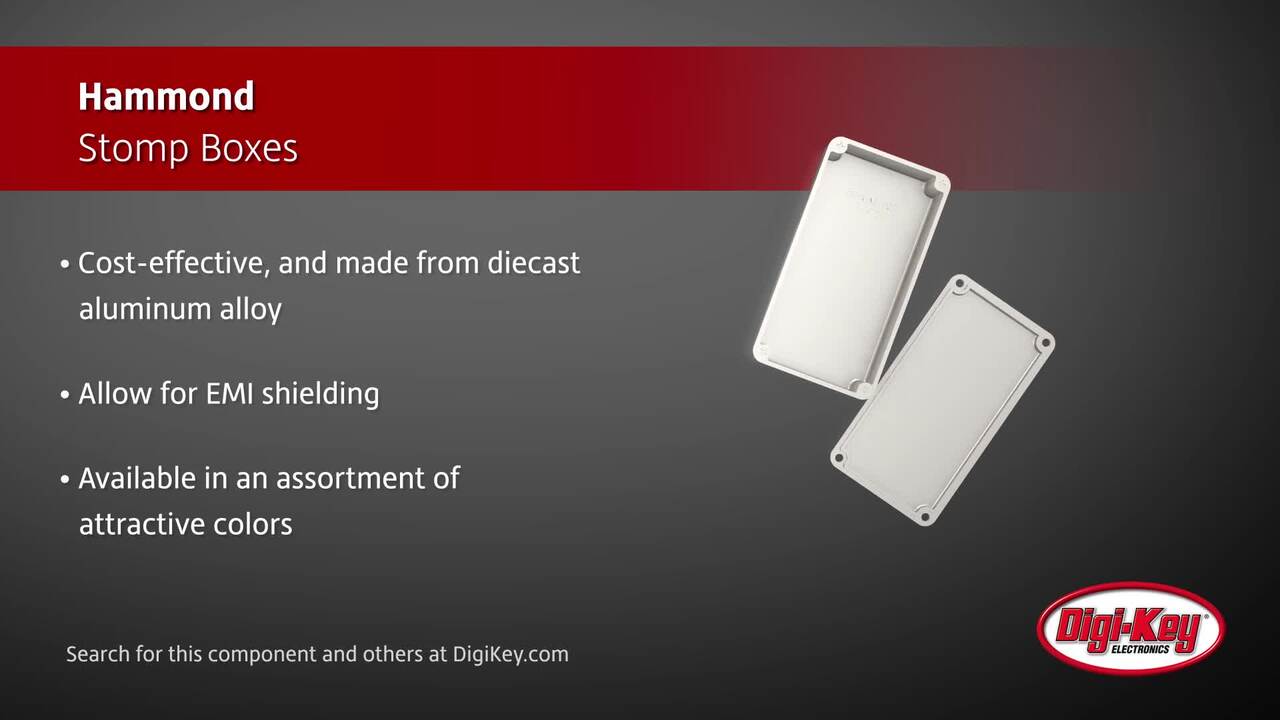 Hammond Stomp Boxes | Digi-Key Daily
Hammond manufacturing offers a variety of stomp boxes: the 1590-series consists of rectangular-shaped boxes; the 1590TRP-series includes their trapezoid-shaped enclosures; and the 1590STP is their series of octagon-shaped boxes.
Hammond 1457 Series Aluminum Enclosures | Digi-Key Daily
1457 Series from Hammond extends the capabilities of the 1455 extruded aluminum family of small enclosures with the addition of IP65 sealed die-cast aluminum end panels, enabling the enclosure to be used in dusty and wet environments.
USB Enclosures From Hammond Manufacturing
Hammond has introduced a line of plastic electronics enclosures designed for application which utilize a USB Type A male connector. They're available in three sizes and 5 colors: black, gray, translucent red, translucent smoke, and translucent clear.
Heavy Duty Water-Tight Die-Cast Aluminum Enclosures
Hammond's heavy duty die-cast aluminum enclosures are tough yet easy to machine and protect electronics from water and dust in wet indoor or outdoor applications. Designed to IP66 and NEMA 4X, UL and cUL listed.
Additional Content
Published Articles

Product Guides

Press Releases

Resources

Technical Information

Product Information

Additional Links